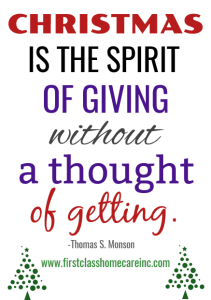 The Spirit of Giving
During the holidays, we want to share the spirit of those less fortunate or in need of some assistance. There are many wonderful food banks, soup kitchens and shelters that provide holiday meals to those in need.  Have we ever thought about seniors who are homebound?  What if someone has no family, is disabled, or does not have access to transportation?  Whether someone is at home or in a facility, is there someone helping them during the holiday season?
Family caregivers are very busy people that often don't have time for themselves, let alone having extra time for others.  If we can carve some extra time in the day to give, we will see the social, emotional, and physical health benefits of positively impacting someone less fortunate.  Studies indicate that those who volunteer to help others have been found to suffer from fewer aches and pains.
Benefits of Giving:
Giving makes us feel happy. Scientists believe that philanthropical behaviour releases endorphins in the brain producing positive feelings, especially with those less fortunate.
Giving is contagious. Giving creates a ripple effect that causes people to give more generously and feel more empathy towards others less fortunate. This is the true essence of "Paying it Forward".
Giving promotes social connection. When you give, you are likely to be rewarded.  These exchanges promote a sense of trust and cooperation, thus strengthening our ties to others.
Giving evokes gratitude. Gratitude is integral to happiness, health and social bonds. It boosts positivity and reinforces kindness and strengthens bonds to others.
Giving is good for our health. Giving to others has been shown to increase health benefits.  A 1999 study at the University of California found that people who volunteered for two or more organizations were 44% less likely to die over a five-year period than were non-volunteers.  Giving helps to reduce stress.  It has been proven that people who provide social support to others have lower blood pressure than those who didn't.
Holiday gift giving for seniors should involve together time.  You can never get enough precious moments together.
So whether you are a caregiver, volunteer your time, buy gifts, or donate money this holiday season, your generosity towards others will create valuable lessons.  It will help you build a cascade of generosity in your community and you will find yourself benefiting in so many ways as helping people is what the true spirit of Christmas is all about.
If you know of a senior in your community that is alone and in need of some friendship and caring, click here to learn more about the Companionship Services that First Class Home Care Inc. offers.