Hi There,This past Tuesday, April 22nd, Terri-Lynne, owner of First Class Home Care Inc. had the pleasure of meeting and sitting at the same table with Misssissauga Mayor Hazel McCallion at the Square One Older Adult Centre in support of Volunteer Appreciation Day.
Mayor McCallion is seen here making a speech to all of the visitors, volunteers and staff. "Thanks for your all your support Hazel, it is much appreciated".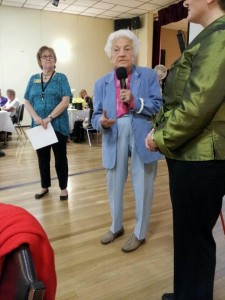 The event was a wonderful success and a great way to say thank you to all of the fantastic volunteers who come out to the centre on a regular basis to help support the centre and the membership who utilize its programs on a daily basis.
Terri-Lynne has been a proud board member and Director of Special Events and Fundraising for the past 2 years.
For more information on the centre please see the attached link.
http://www.sq1oac.com/